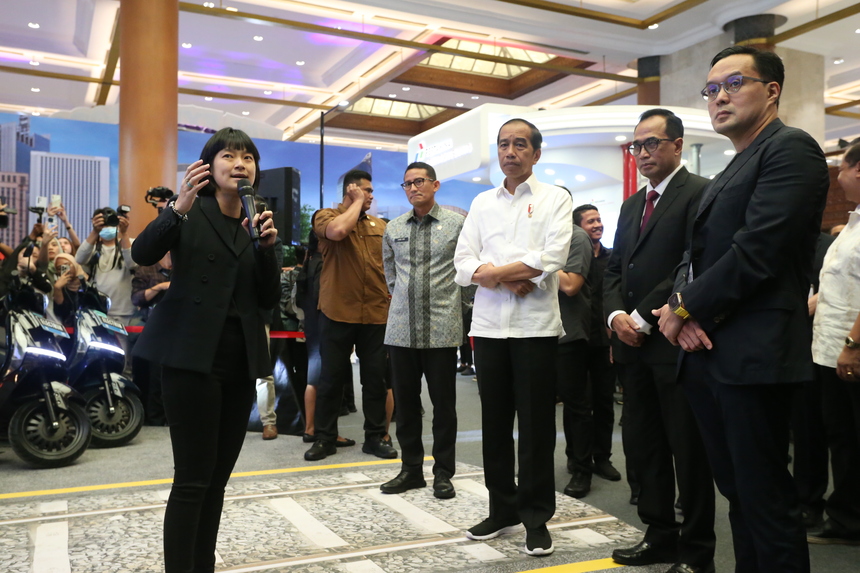 Products and services /
Gojek Launches GoRide Transit, the World's First Multimodal Service Integrating Ride-hailing and Public Transport, Making Trips More Affordable
● With GoRide Transit, consumers will be able to seamlessly book multimodal trips integrated with public transport in a single transaction.
● GoRide Transit will provide consumers with fast, affordable and convenient trips.
Jakarta, 29 September 2023 - Gojek, an on-demand services platform part of PT GoTo Gojek Tokopedia (IDX: GOTO), today announced the official launch of GoRide Transit, a comprehensive solution for multimodal travel. In just a single transaction, consumers will be able to book a multimodal trip comprising a GoRide to the train station, a trip on the KRL Commuterline, and a GoRide from the train station to their final destination. This makes Gojek the world's first on-demand platform to introduce a multimodal transport solution that is integrated with public transport.
GoRide Transit has been gradually rolled out since early September 2023, and was officially launched today at the transportation exhibition and travel fair "Hub Space X KAI Expo 2023", organized by the Ministry of Transportation.
Patrick Walujo, CEO of GoTo Group, said "GoRide Transit is a key part of our strategy to grow our total addressable market by expanding our reach to a wider segment of consumers, particularly those who prioritize value. It also supports the Government's ongoing efforts to increase public transport ridership in Indonesia, which will in turn reduce the country's carbon emissions, in line with GoTo's Three Zeros commitments."
Catherine Sutjahyo, President of On-Demand Services, GoTo Group, said "As a homegrown company, we have a unique understanding of the Indonesian landscape and the challenges that consumers here face, including the traffic congestion that many have to contend with daily. The launch of GoRide Transit highlights our position as a pioneer in multimodal mobility solutions and is part of our ongoing efforts to provide services that will add value and convenience to the lives of our users. With GoRide Transit, consumers can save on both cost and time when commuting, while experiencing the added ease of being able to book their entire trip through a single transaction."
GoRide Transit offers three key benefits for consumers:
● Affordability:
By combining ride-hailing service with public transport, consumers can potentially enjoy cost savings, especially for longer trips from sub-urban areas such as Bogor, Bekasi and Tangerang to downtown Jakarta and vice versa. Research by the Center for Transportation and Logistics Studies at Gadjah Mada University (PUSTRAL UGM) showed that GoRide Transit can save consumers an average of up to 27% in cost per trip compared to before they used GoRide Transit.
● Speed:
Integrating public transport in their commute can help consumers to cut down on travel time. According to the PUSTRAL UGM research, consumers using GoRide Transit enjoyed a reduction in travel time of 15% as compared to other modes of transport.
● Convenience:
Consumers can book the end-to-end trip in a single transaction, with various cashless payment methods offered. GoRide Transit also serves as a comprehensive trip planner, by providing information such as estimated travel time, recommended routes and station locations, as well as guides on how to access GoRide last-mile services.
Budi Karya Sumadi, Minister of Transportation of the Republic of Indonesia, said, "We welcome strong collaborations between transport operators in the public and private sectors, as this will help create a safe, comfortable and efficient transportation system for the community. In line with the transportation integration roadmap in Indonesia, the Ministry of Transportation will also continue to encourage innovations such as GoRide Transit that maximize the use of public transportation, as this can help address transport connectivity challenges in urban areas."
The research study by PUSTRAL UGM also showed that Gojek's multimodal trip planner solution that was launched in July 2022 has increased public interest in using public transportation. According to the study, there was a 38.3% increase in Commuterline usage by Gojek users compared to their travel patterns before using the solution. In addition, it contributed to a reduction in emissions from private vehicles by up to 5,057 tons throughout 2022.
***
About Gojek
Gojek is GoTo Group's on-demand services platform and a pioneer of the multi-service ecosystem model, providing access to a wide range of services including transportation, food delivery, logistics and more. Gojek is founded on the principle of leveraging technology to remove life's daily frictions by connecting consumers to the best providers of goods and services in the market.
The company was first established in 2010 focusing on courier and motorcycle ride-hailing services, before launching its app in January 2015 in Indonesia. Since then, Gojek has grown to become the leading on-demand platform in Indonesia, with additional operations in Vietnam and Singapore. The Gojek platform now comprises over 2.7 million driver partners across the region. Gojek is part of the GoTo Group, the largest digital ecosystem in Indonesia, consisting of Gojek, Tokopedia and GoTo Financial.
Gojek is dedicated to solving the daily challenges faced by consumers, while improving the quality of life for millions of people across Southeast Asia, especially those in the informal sector and micro, small and medium enterprises (MSMEs).
The Gojek application is available for download via iOS and Android.
For media enquiries, please contact:
Sharmaine Tan
sharmaine.tan@gotocompany.com