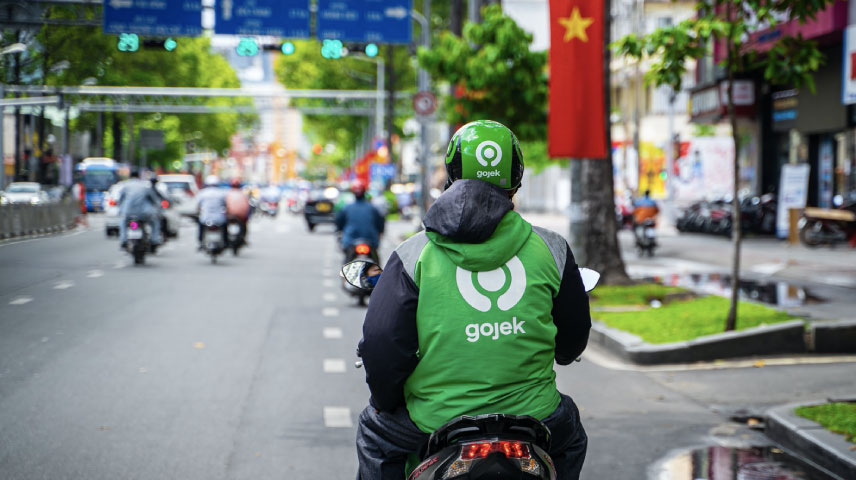 Products and services /
Gojek to offer Ho Chi Minh City users free rides to COVID-19 vaccination centres from 19-25 June
Company aims to support fight against the pandemic by helping people commute safely and conveniently to receive their vaccination

Ho Chi Minh City, 18 June 2021 - Gojek today announced it will provide all users in Ho Chi Minh City with 2 ride vouchers worth VND 40,000 each, which they can use to book motorbike rides to and from COVID-19 vaccination centres around the city. The move is aimed at supporting the latest vaccination drive by the Ho Chi Minh City Government, which will run from 19 June 2021. By providing free rides to and from these sites, Gojek aims to ensure that transportation is not a barrier to vaccine access, and commuters have a safe and convenient point-to-point transportation option to travel to and from these centres.
The pair of ride vouchers will automatically be added to every user's Gojek account on 19 June and be available for use through 25 June 2021, in line with Ho Chi Minh City government's vaccination schedule. With each voucher, riders can book a free ride valued at up to VND 40,000 for pick-up or drop-off at their appointed vaccination centre. New users who download the Gojek app and sign up with the platform between 19 and 25 June 2021 will also receive the 2 vouchers in their Gojek accounts, in addition to discount vouchers usually extended to all new users.
Duc Phung, General Manager of Gojek Vietnam, says: "Vaccination is an important layer of protection in our fight against COVID-19. We appreciate the efforts of the Ho Chi Minh City government in making vaccines available to its citizens, and want to do our part to support the effort by enabling our users to get to their vaccination appointments with ease and remove any transportation barriers to vaccine access. We hope that with this campaign, more people will be inclined to get vaccinated and we can do our part to support Ho Chi Minh City's fight against the pandemic."
Earlier this month, Gojek announced two new initiatives to support its driver and merchant partners and consumers amid heightened COVID-19 restrictions in Vietnam. The first initiative was to provide driver-partners with cash support of up to VND 200,000 per day should they be directly impacted by Covid-19, as well as additional incentives for GoFood orders. The second was to eliminate delivery fees on all GoFood orders at merchant partners in key districts in Ho Chi Minh City and Hanoi, as part of the campaign "Freeship zone: As long as the shop is open, Gojek will provide freeship." As these "Freeship Zones" cover densely populated areas where eateries and restaurants are abundant, this campaign aims to remove consumers' hesitation when they need to place multiple orders. This in turn will help to stimulate demand, bring more consumers and additional income earning opportunities to Gojek merchants.
Additionally, Gojek has increased its educational outreach to driver-partners and riders on the precautions they must take while providing ride-hailing services. Examples include compliance with strict prevention measures regulated by the government, ministries and municipal people's committees, as well as adhere to the practice of 5Ks (Khau trang- wearing face mask; Khu khuan - hand washing and disinfection; Khoang cach - keeping distance; Khong tap trung - no mass gathering; and Khai bao y te - filling out health declaration forms).
As Gojek monitors the evolving COVID-19 situation, it will continue to look at new initiatives to create an even safer ride environment and keep Ho Chi Minh City moving safely.